Ray Guns are advanced space-age projectile weapons used by the personnel of tomorrowland /plus-ultra & audio-animatronics for defensive purposes, there are several models as follows
Types of Ray gun
Edit
Basic Raygun
Edit
a primary single-hand used ray gun with single stock and over shaped lazer barrel, several of the audio/anamatronic agents have those for keeping the existence of tomorrowland a secret from anyone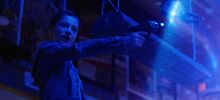 Anthea's Raygun
Edit
Anthea's personal ray gun, first seen when saving casey from the animatronic shipowners of Blast from The Past
Ray-Rifle
Edit
Rifle version of the basic rayon, operated properly with 2 hands and comes with green aiming lazer
Hugo & Ursula's Rayguns
Edit
retro looking reigns with advanced fire frequency, which even emit plasma-rings when fired.
City Security Guard Ray-Rifle
Edit
type of rayon rifle variant used the workers that serve David Nix in tomorrowland, before & after Casey and her campanions arrive in the Vintage rocket lander pod after it's hyperjump sequence.
Ad blocker interference detected!
Wikia is a free-to-use site that makes money from advertising. We have a modified experience for viewers using ad blockers

Wikia is not accessible if you've made further modifications. Remove the custom ad blocker rule(s) and the page will load as expected.