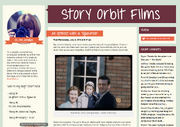 Story Orbit Films is a blog owned by Amelia. She used this blog to help uncover her Grandfather's past and his ties with Plus Ultra. In her first post she discussed her Grandfather, Carlos, his passing, and the person he was.
The blog went on to include posts of Carlos' Personal Effects, photographs of him, videos, photos, findings, personal thoughts, etc. In her last post, she thanked her followers for their help and support and gave them a video of the journey.
Ad blocker interference detected!
Wikia is a free-to-use site that makes money from advertising. We have a modified experience for viewers using ad blockers

Wikia is not accessible if you've made further modifications. Remove the custom ad blocker rule(s) and the page will load as expected.