Tim McGraw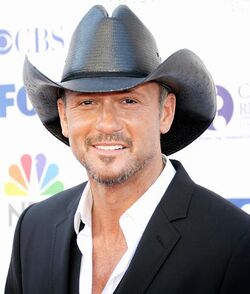 Birthplace
Delhi, Louisiana
Tim McGraw is an American actor and singer. As a country singer, McGraw has released thirteen studio albums and has won multiple Grammys, Academy of Country Music awards, Country Music Association (CMA) awards, American Music Awards, and People's Choice Awards. In his acting career, he has had supporting roles on films like "Country Strong" and "The Blind Side."
He portrayed Eddie Newton in Tomorrowland.
Ad blocker interference detected!
Wikia is a free-to-use site that makes money from advertising. We have a modified experience for viewers using ad blockers

Wikia is not accessible if you've made further modifications. Remove the custom ad blocker rule(s) and the page will load as expected.