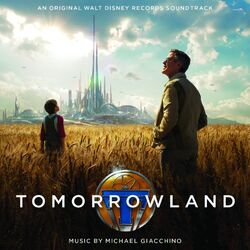 The
Tomorrowland
soundtrack is the official soundtrack to
Brad Bird's
film
Tomorrowland
. It was digitally released on May 19, 2015 and was available for physical release on June 2, 2015.
Tracklist
Edit
A Story About the Future
A Prologue
You've Piqued My Pin-Trist
Boat Wait, There's More!
Edge of Tomorrowland
Casey v Zeitgeist
Home Wheat Home
Pin-Ultimate Experience
A Touching Tale
World's Worst Shop Keepers
Just Get In the Car
Texting While Driving
Frank Frank
All House Assault
People Mover and Shaker
What An Eiffel!
Welcome Back, Walker!
Sphere and Loathing
As the World Burns
The Battle of Bridgeway
The Hail Athena Pass
Electric Dreams
Pins of a Feather
End Credits
Ad blocker interference detected!
Wikia is a free-to-use site that makes money from advertising. We have a modified experience for viewers using ad blockers

Wikia is not accessible if you've made further modifications. Remove the custom ad blocker rule(s) and the page will load as expected.